Sea cargo in import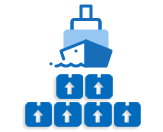 One of the types of transport offered by our company is groupage sea transport, or LCL (less than container load). Groupage transport means relatively small loads, prepared for sea transport, usually on pallets, which, due to their dimensions, are part of groupage loads. From an economic point of view, this type of transport is certainly beneficial, but you need to be aware of its specific features, such as transit time, which cannot be precisely defined. If you are preparing to import general cargo by sea, our specialists will answer your questions and tell you what to pay attention to. The forwarder's cooperation with the customer is a key factor allowing for efficient service implementation.
We are able to arrange the collection of cargo from almost anywhere in the world. In addition to the transport itself, we can organize the delivery of goods from the sender to the port, delivery from the destination port to the recipient, customs clearance, and cargo insurance. In order to streamline the order execution process, our agents contact the senders to determine the details of the procedures in the exporting countries.
We invite you to contact both entities already using this type of transport, as well as enterprises for which it will be the first import. Our staff will guide you step by step through the entire process. With few exceptions, we can organize the transport of a variety of industrial goods.
In order to obtain a quote, please contact us in the most convenient way for you: by phone, e-mail, using the rate calculator or contact form. We provide forwarding services for the organization of sea transport only in import, only for companies.